Opener Replacement and Repair
Our highly skilled professionals have the expertise to repair or replace your garage door opener. Having a garage door opener is convenient and allows you to open and close your garage door without getting out of your car. With modern technology, you can even operate your door from an app on your smartphone that can tell you when your garage door was last opened and can also indicate the position the door is in now so, no need to worry anymore about remembering if you closed the garage door when you left the house or not.
When choosing a garage door opener, you can select from many different brands and models and our service experts can help you find the right opener that will fit your budget and the functionality you need. The most common models are a chain drive opener or a belt drive opener. We can repair or install both models of openers manufactured by Liftmaster.
There are many garage doors that do not have the space to place an opener above the door but Liftmaster has the solution for that. With Liftmaster's new Side mount opener the problem of space is solved, as the opener is placed on a wall rather than above the garage door. This type of opener is the best solution for a low headroom garage.
There are several common opener problems that customers call us about and we can repair:
Strange Noise – Your garage door starts to make loud or unusual noises when opening or closing.
Flashing Lights – Many makes and models of automatic garage doors come equipped with warning lights that flash on and off when something is wrong.
Wall Button Failure – If your remote opener is still working but your wall button is not, this is not an urgent matter, but it is something that our garage door opener repair technician can fix whenever convenient.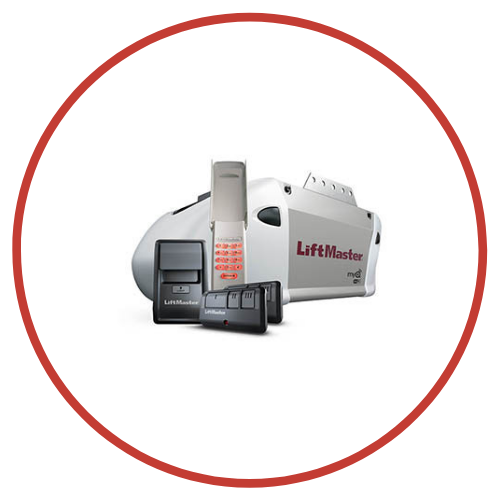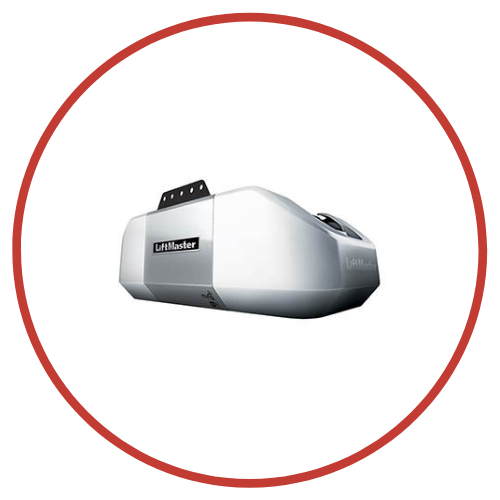 Humming Noise with No Movement – If your door makes a humming sound but does not move when you attempt to open it with either the wall switch or the remote, it could be due to a failed capacitor, a jammed trolley or in some cases, a chain that has jumped off a sprocket.
Remote Failure – If your remote control stops working, the first thing to check is that it is not just a case of the batteries losing their charge. If you replace the batteries and it still does not work, we normally recommend replacing the unit rather than attempting a repair.
There are other problems that you may encounter but the ones listed above are those that are most commonly reported by our customers. Whatever the nature of your problem, just pick up the phone and let us know; our experienced garage door opener repair team is ready and waiting to help you.