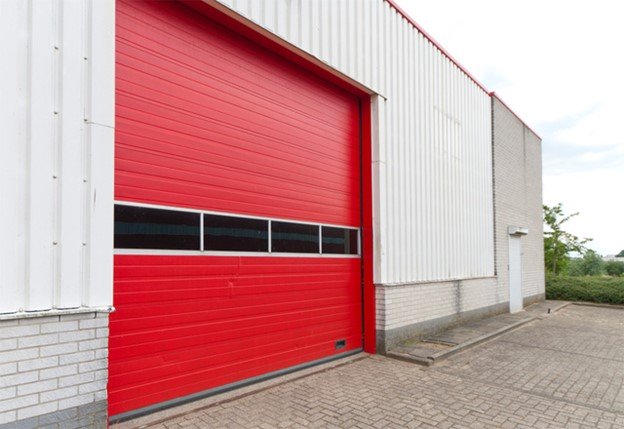 There are a lot of reasons why commercial garage doors malfunction. Some of them are easily remedied (dead transmitter batteries) while others are more vexing. If you're experiencing problems with your garage door The Door Master's crew of highly-trained garage door techs can resolve any commercial garage door repair issue quickly and safely. We have more than 10 years of experience and a hard-earned reputation for prompt service, quality work, and fair prices.
Common Commercial Garage Door Repair Issues
Here are 6 common problems that cause people to call The Door Master's commercial and residential garage door repair service. If you experience any of these, you should call us too.
Misaligned Track – The tracks that guide your door need to always be properly aligned or it could lead to serious operational failure. If your track has become bent or the rollers are loosely clanging around in the track do not delay. Call our commercial garage door repair specialists immediately.
Door Will not Raise – If your garage door motor is running but the door refuses to lift it may be a problem with your torsion spring. You should never attempt to fix a torsion spring problem yourself as they can be tricky and potentially extremely dangerous to work with. Call the pros at The Door Master instead.
Door Closes Then Bounces Open – The "open" and "close" settings of your garage door set the door's operational limits. If your settings have become compromised your door may bounce back up after touching the ground, thinking it has hit an obstruction. If your settings are off and you reset them improperly it could create a serious hazard for you and your family.
Door Closes with a Bang – If your door suddenly seems to free-fall and hit the ground with a bang it may be a torsion spring issue. You should never, as we said earlier, attempt to fix a torsion spring issue yourself. Give us a call instead. That is what we are here for.
Door Movement is Uneven or Door Vibrates – This could indicate a problem with the motor itself or it could be another problem with the torsion springs. A third possibility is that your tracks are dirty. If you clean the tracks and this does not solve the problem, call The Door Master commercial garage door repair service before you go any further.
Smoke Coming from Motor – Smoke usually indicates a problem with the capacitor and means it will have to be replaced. Keep in mind too that the chemicals in the smoke can pose a health problem and should not be inhaled. If you see smoke, call us for help.
Businesses and homeowners depend on their garage doors to provide access, safety, and convenience. But garage doors are also extremely heavy pieces of moving equipment which, if improperly maintained or repaired represent a significant health hazard. Do not tempt fate by trying to handle commercial garage door repair by yourself. Call the professionals at The Door Master. Our emergency service will get your garage door up and running again in no time.