Technology has come a long way in recent years. Now, you can make almost anything "smart" with just the touch of a button—including your garage door. With the help of a phone app, you can control your garage door from anywhere at anytime. Let's take a look at how this works and why it's so useful.
What is a Smart Garage Door?
A smart garage door is one that can be opened and closed remotely using your phone or other device. This means no more fumbling around for keys when you come home late at night or worrying about if you remembered to close the garage door while you were away on vacation. Instead, all it takes is a few quick taps of your finger on your phone and voila – you can open and close your garage door right from the comfort of wherever you are!
Benefits of Having a Smart Garage Door
A smart garage door offers several benefits to users, including increased security, convenience, and energy efficiency. With remote access, homeowners have better control over who has access to their home; they can easily give guests permission to enter without having to hand over physical keys or memorize codes. Additionally, since the door can be opened using an app on the phone, there's no need to worry about losing keys or forgetting codes again. Lastly, because the doors are automated, they often require less energy than manual doors do, which helps save money in the long run.
How To Get Started?
Getting started with setting up your new smart garage door is easy! All you have to do is download and install an app onto your smartphone that is compatible with your particular brand of smart garage opener (many companies offer these apps for free).
Click on the link and learn how to set up LiftMaster myQ App: https://www.liftmaster.com/ca/myq/how-to-set-up-myQ
After that, simply follow the instructions provided by the app and connect it to your Wi-Fi network. Once connected, you're ready to go! You can now open and close your garage door right from the palm of your hand!
In conclusion, getting a smart garage door system installed in your home offers numerous benefits such as increased security, convenience, and energy efficiency. The process itself is fairly straightforward; all it takes is downloading an app compatible with the brand of opener you choose and connecting it to Wi-Fi network before starting off on enjoying all its features! So what are you waiting for? Get yourself set up with a smart garage today!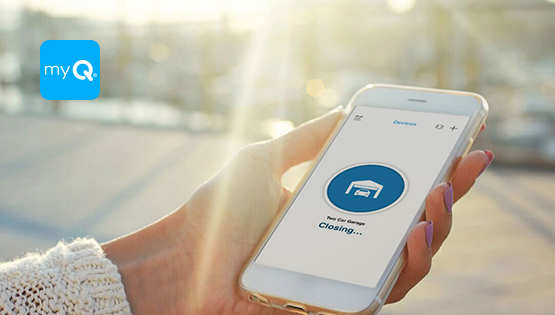 If you have more questions about how to use your garage door smart phone App. just pick up the phone and call The Door Master. You can also click on book an appointment and the technician will be there on the day and time that is most comfortable for you.